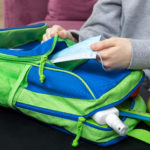 Adrian, MI – School districts in Lenawee County are easing into the education cycle this Fall, and most…if not all… of them are implementing a form of in-person and virtual education.
Adrian Public Schools Superintendent Bob Behnke called-in to View Point Saturday morning to give a progress report following his district's first week of the new school year.
First, he gave several thank-yous…
Superintendent Behnke said that about a third of the district's students chose to learn virtually, but the method was not perfect in its first week…
Tune into our local and state newscasts, anytime day or night, for this story and more.
#wlenradio #wlennews #lenaweenews