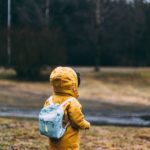 "Backpacks for Children" giveaway will be held at Fairfield Baptist Church on Seneca Street in Fairfield. This giveaway will take place Saturday, August 15th from 10am to 6pm. The child must be present to pick out their own backpack and supplies. Cost from each child is a donation of a non-perishable food item. All collected food will be donated to Fishes and Loaves Food Pantry.
Masks are required for everyone. Temperatures will be taken and anyone who is feeling sick is asked to stay home.
Parents may have to step back while the child goes to pick out their items. Only one family will be allowed at a time per table.