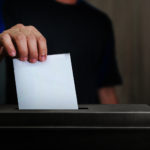 Adrian, MI – One of the main purposes of a Primary Election is to determine one candidate per political party that will be on the ballot in the General Election in November… and there are several of those races in Lenawee County.
For the seat of 57th District State Representative…which works on behalf of most of Lenawee County in Lansing… Will Garcia and Jesse Reynolds are squaring off for the Democratic position… with the winner challenging the incumbent Republican Bronna Kahle.
For Lenawee County Sheriff, Republicans Michael Breznik and incumbent Sheriff Troy Bevier will face each other for the Republican party's spot in the General election.
The Deerfield Township Supervisor position has three Republican Candidates on the Primary ballot, Ronald Cousino, Shane Dusseau, and Lynn Keller.
The Raisin Township Supervisor race has Republican Tom Hawkins running in the Primary against incumbent Republican Dale Witt.
The Primary Election is Tuesday, August 4th.
Tune into our local and state newscasts, anytime day or night, for this story and more.
#wlenradio #wlennews #lenaweenews