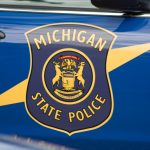 Riga Township, Lenawee County – A 78-year-old Blissfield woman died from injuries sustained in a head-on crash with a semi-truck Tuesday morning.
The Michigan State Police Monroe Post reported that, based on the crash investigation, evidence on the scene and witness statements, a Chevy Trax was travelling eastbound on US-223 when the driver crossed the center line into the westbound lane. The semi-truck was traveling in the westbound lane and attempted to avoid a collision by moving onto the shoulder.
The Blissfield woman was the sole occupant of the passenger vehicle. She was transported by ambulance to Promedica Toledo Hospital, and was later pronounced deceased. The sole occupant of the semi-truck (a 52-year-old male from Monroe) was also transported by ambulance to the Promedica Toledo Hospital with minor injuries.
The Michigan State Police Monroe Post was assisted on scene by the Lenawee County
Sheriff's Office, the Michigan Department of Natural Resources, the Riga Township Fire
Department, the Blissfield Township Fire Department, and the Michigan State Police 1st District Traffic Crash Reconstruction Unit.
Tune into our local and state newscasts, anytime day or night, for this story and more.
#wlenradio #wlennews #lenaweenews
*Information courtesy of the Michigan State Police Monroe Post*