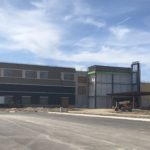 Adrian Twp, MI – The opening date of the new ProMedica Charles and Virginia Hickman Hospital is looking at a short delay to equip the hospital with additional safety features.
These measures include increasing the number of negative pressure patient care rooms in the emergency department and the labor and delivery, critical care, and medical/surgical care units; installing plexiglass barriers at patient registration and in areas where high volumes might tend to congregate; and incorporating ultra-violet lights into the air ducts, which helps to disinfect the heating and cooling units and reduce the spread of germs.
ProMedica is implementing the new measures so that the hospital will be better prepared to respond to COVID-19 and similar outbreaks should it need to do so in the future.
The new hospital opening date for patient care is September 24th, 2020.
Tune into our local and state newscasts, anytime day or night, for this story and more.
#wlenradio #wlennews #lenaweenews
*Information courtesy of a News Release by ProMedica*
*File Photo from WLEN News*