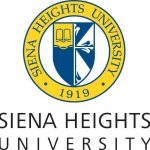 Adrian, MI – Credible, a company that specializes in student lending, has ranked Siena Heights University fourth out of 44 Michigan four-year college and universities in having the lowest student loan average debt-to-income ratio.
According to Credible, this analysis is based on data collected by the Department of Education and made available to the public through College Scorecard. Siena Heights had an average .44 debt-to-income ratio, which trailed only three other Michigan institutions. The state average was .75.
"Siena Heights University has always strived to offer a high-quality yet affordable college education," said SHU Vice President of Enrollment Management George Wolf. "Efforts like our Siena Tuition Advantage price certainty plan help build affordability. Siena's focus is always on limiting student debt."
In addition, Siena Heights had the third lowest median debt at graduation, with an average debt of $17,250 per student. Siena Heights also was in the state's top 10 highest median earnings six years after enrollment, with students earning an average of $39,500.
"This data-driven analysis is another testimonial that highlights the value and your return on investment in a Siena Heights University degree," Wolf said.
Siena Heights University is a Catholic university founded and sponsored by the Adrian Dominican Sisters. Siena Heights is a coeducational North Central accredited institution founded in the liberal arts tradition, offering associate's, bachelor's and master's degrees. The university is headquartered in Adrian, Mich., with degree completion centers in Dearborn, Southfield, Benton Harbor, Monroe, Battle Creek, Kalamazoo, Lansing, Jackson and Online.
Tune into our local and state newscasts, anytime day or night, for this story and more.
#wlenradio #wlennews #lenaweenews
*Information courtesy of Siena Heights University*