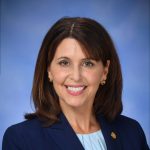 Due to public health concerns surrounding COVID-19 in Michigan, State Rep. Bronna Kahle has announced the suspension of her remaining March office hours, which were scheduled to take place from 10:30 a.m. to 12:00 p.m. on March 28 at Schultz-Holmes Memorial Library in Blissfield.
"I always look forward to the opportunity to connect with the people in our community and hear what matters most to them, but the health and safety of our neighbors is far more important," Rep. Kahle said. "At this time, our sole focus should be on what's best for our community and what actions we can all take to protect the most vulnerable among us."
Anyone desiring information regarding Michigan's ongoing efforts to combat COVID-19 or to discuss other issues of concern is welcome to contact Rep. Kahle's office at (517) 373-1706 or BronnaKahle@house.mi.gov.
"I am committed to remaining accessible to you during this difficult time – we are all in this together. My office is open, and my staff and I remain ready to serve the people of Lenawee County."
Tune into our local and state newscasts, anytime day or night, for this story and more.