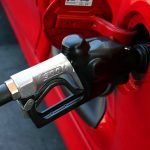 AAA Michigan says average gas prices statewide have fallen about 8 cents from a week ago to around $2.33 per gallon,
The average state-wide price for self-serve regular unleaded is about 5 cents more than a year ago.
The state's highest average was in Keweenaw County at about $2.80. The lowest prices were in Newaygo County at $2.15 per gallon. The average price in Lenawee County was $2.22.
AAA Michigan surveys daily fuel prices at 2,800 gas stations across the state.
Tune into our local and state newscasts, anytime day or night, for this story and more.
#wlenradio #wlennews #lenaweenews