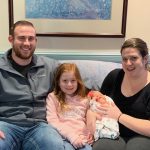 ProMedica Bixby Hospital has welcomed their first baby born in 2020!
Londyn Plank was born at 8:46pm on January 1st to parents Rebekah and Dustin Plank of Adrian.
Londyn weighed 6 pounds, 14 ounces, and was 20 and ¾ inches long.
Tune into our local and state newscasts, anytime day or night, for this story and more.
#wlenradio #wlennews #lenaweenews