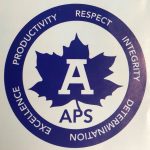 ADRIAN — As part of the annual evaluation cycle for the Superintendent, the Adrian Public Schools Board of Education evaluated superintendent Bob Behnke as effective on Monday, December 9, 2019 using the Michigan Association of School Boards Superintendent Evaluation tool. The School Board gave Superintendent Behnke an overall score of 3.56 out of 4.0 or 89 percent. This ranking was short of the threshold for the top rating of Highly Effective due to the requirement that 40% of educator evaluations need to be based on student performance of the M-STEP, NWEA, and other adaptive assessments.
The MASB instrument evaluates the superintendent's performance in seven key areas, assessing evidence of accomplishments against a total of 37 specific professional attributes. "While superintendent Behnke was ranked as Highly Effective in most areas of the evaluation, the excessive weight placed on high stakes testing does not provide an adequate representation of the work that is taking place," said Beth Ferguson, School Board President. She continued, "This will be further multiplied this spring for all teachers and administrators across Michigan if the legislature and governor does not once and for all address this issue and make an adjustment back to the more realistic 25%."
In February Behnke will enter his sixth year with the District. He commented, "I am thankful to serve the Adrian Public Schools district, the Adrian community, and have an opportunity to work with such a dedicated and committed staff. The good work that has been taking place in the district continues to grow with continued emphasis on the district's PBIS behavior program, continued alignment of curriculum, improvement of facilities, and stability of the district's finances." Behnke continued, "Maple Pride is alive and well and I take great pride in serving as the district's number one fan and promoter."
Board Secretary Mike Ballard stated that "We feel we have the Best Superintendent in Lenawee County, and he is evaluated only as effective because of the flawed system that Lansing says we are required to use, not the locally elected school board."
President Ferguson commented, "Bob is committed to APS and the work that he does in the community through action, advocacy, and involvement is important to be noted. This year we saw so much progress embracing our Hispanic culture with the Quack, Quack, Quinceanera book, district-wide growth in the area of diversity, the expansion of student input and student councils, parent councils at all levels, and the continued progress of aligning our curriculum, all while maintaining a balanced budget and improving facilities and services."
The board voted unanimously in a 6-0 vote to accept the evaluation. Trustee Rudy Flores was absent from Monday's meeting.
*Text in this article courtesy of Adrian Public Schools Director of Community Recreation and Communications*
Tune into our local and state newscasts, anytime day or night, for this story and more.
#wlenradio #wlennews #lenaweenews