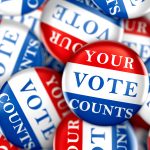 ADRIAN
The City of Adrian has a new mayor for at least the next two years. Angela Sword-Heath unofficially won the election on Tuesday night over Shane Mackey.
Here is the breakdown for that race:
Sword-Heath: 1,424 total, 240 Precinct 1, 101 Precinct 2, 91 Precinct 3, 439 Precinct 4, 305 Precinct 5, 248 Precinct 6.
Mackey: 618 total, 100 Precinct 1, 84 Precinct 2, 70 Precinct 3, 138 Precinct 4, 123 Precinct 5, 103 Precinct 6.
Allen Heldt, Lad Strayer, and Mary Roberts won the three available seats for the 4-year term on the Adrian City Commission.
Here are the vote totals:
Mary Roberts: 1,387
Lad Strayer: 1,365
Allen Heldt: 1,026
Raymond Leonard: 866
Joaquin Ramos: 788
Here are the results for the partial 2-year Commission seat on the Adrian City Commission:
Gordon Gauss: 1,130
Kirk Valentine: 866
TECUMSEH
City of Tecumseh Bond Proposal passed by a 667-319 vote. Gary Naugle, Vicki Riddle, and Austin See were elected to the City Council.
HUDSON
Lee H. Daugherty and Pamela Ely were both elected to serve on the Hudson City Council.
The bond proposal on the ballot for Hudson voters centered around the regulation of and number of marihuana establishments allowed with in the city. The results were:
Yes- 129
No- 278
MORENCI
Sean D. Seger has been elected Mayor, running unopposed. Jerome Bussell, Jeffrey M. Lampson, and Gary D. Pfund have been elected to serve on the Morenci City Council.
BLISSFIELD COMMUNITY SCHOOL DISTRICT
The millage proposal passed by a 667-268 vote.
WHITEFORD SCHOOL DISTRICT
The full results will be posted as they are made available by Monroe County because the district lies within both Lenawee and Monroe Counties.
***IMPORTANT***
All results posted in this article are UNOFFICIAL. Official results will be posted after the Lenawee County Board of Canvassers has completed their count.
Tune into our local and state newscasts, anytime day or night, for this story and more.
#wlenradio #wlennews #lenaweenews