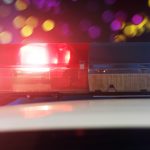 Fentanyl, heroin, and currency were seized from an Adrian apartment by the Region of Irish Hills Narcotics Office.
RHINO executed a search warrant Monday evening at Maple Village Apartments.
In total, approximately 7 grams of fentanyl, 5 grams of heroin, and $3,300 in currency were seized.
One suspect was lodged on an outstanding warrant out of Detroit. Additional charges are currently pending on several suspects.
RHINO was assisted at the scene by the MSP-Monroe Post/Adrian Detachment, MSP K-9 14, the MSP Emergency Support Team, the Lenawee County Sheriff's Office and the Adrian Police Department.
Tune into our local and state newscasts, anytime day or night, for this story and more.
#wlenradio #wlennews #lenaweenews