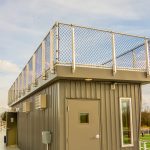 The Michigan Senate has approved legislation to clearly state that football stadium press boxes, concession stands and ticket booths do not need to be heated as 'occupied' spaces.
Madison School District is trying to build a press box this summer as part of a larger upgrade to their football and track facilities. However, state building inspectors are interpreting current mechanical codes to say that the press box is an 'occupied space' and must have permanent heating facilities capable of maintaining a minimum room temperature of 68 degrees.
Senate Bill 294 would amend Michigan's construction code to clarify that interior spaces, such as press boxes, that are built as viewing areas for outdoor sporting activities are exempt from the permanent heating requirements.
As passed by the Senate, the bill would also exempt ticket booths and concession stands from the heating requirement. The bill also adds clarity to the existing exemption that press boxes with an aggregate area of 500 square feet or less are not required to have an elevator.
The Bill now heads to the House of Representatives.
Tune into our local and state newscasts, anytime day or night, for this story and more.