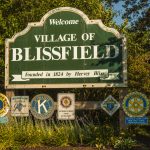 In a statement from the village offices:
"The Village is aware that, to some people, the drinking water in the Village has had an unusual taste and odor in the last several weeks. Please be aware that while widespread, apparently not everyone is experiencing these issues. It appears to be a matter of personal taste whether or not you detect these tastes and odors. Please be advised that the water is completely safe to drink and otherwise use.
The Village's Water Department conducts dozens of tests per day on various aspects of the water, and all the results show the water is within safe limits set by the state and federal governments. Water Plant Staff have made adjustments to the water treatment process to try to address the taste and odor issues. The problem appears to be caused by algae growing in unusually low water levels in the River Raisin (our raw water source), which in turn is caused by lower than normal rainfall and higher than normal temperatures.
Please remember- the water is completely safe to drink and use. The Village Water Plant staff is making what adjustments it can at the Plant, and will continue to do so as necessary. If you have any questions about the situation, please contact Kipp Scott (Supervisor) at the Blissfield Water Plant . He can be reached at (517) 486-3350, or email waterplant@blissfieldmichigan.gov."
Tune into our local and state newscasts, anytime day or night, for this story and more.