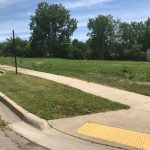 1) The first reading of the purchase agreement on the former McKinley site with Habitat For Humanity was held Monday night by the Adrian Board of Education. APS Superintendent Bob Behnke tells WLEN News…
The purchase agreement will give Habitat For Humanity one year to see if they can obtain approval and funding for the project. Habitat For Humanity will provide the district updates every 90 days.
2) The new policy regarding the procedure to administer Narcan at the high school and Community High School was approved Monday night by the Adrian Board of Education.
APS Superintendent Bob Behnke tells WLEN News of the training that has already occurred…
3) The Adrian Board of Education is reviewing a request from high school head wrestling Coach Nick Conklin. Conklin's request is to make upgrades to the wrestling room as well as naming the room.
Adrian High School Head Wrestling Coach Nick Conklin…
Coach Conklin told the board that he intends to raise $20,000 to provide some cushion above the estimated coast to renovate the wrestling room. Related to the fundraising effort is to name the room after retired Coach Dennis Fox. Coach Fox was an Adrian High School teacher for 24 years, retiring in 2009. Fox was the wrestling coach from 1986 until 2009. The naming request will be brought up at each board meeting so district residents have the ability to comment on the naming request. A decision on the approval for the naming request will be at the November 12th board meeting.
4) Adrian Schools Athletic Director John Roberts is asking the Adrian Board of Education to consider adding bowling as a partially funded sport at the high school. Roberts tells WLEN News that bowling has been a club sports for over ten years…
5) The Adrian Board of Education accepted three donations at their board meeting. The West Adrian Community Church and the Provincial House both donated school supplies for children in need.
Biggie's Pizza made a donation of $500 to be used by the APS recreation program.
Tune into our local and state newscasts, anytime day or night, for this story and more.