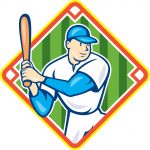 Morenci is set to host the National Wiffle League Association (NWLA) Tournament Presented by Visit Lenawee starting on Friday, July 13, 2018, and extending through Sunday, July 15, 2018. The tournament will bring 16 teams from throughout the country to Morenci to crown the champion of wiffleball for 2018. Teams from as far as Minnesota, New York, and Massachusetts will make the trip to Morenci for the weekend.
NWLA Tournament Presented by Visit Lenawee Committee Member Michael Sessions is excited to bring the national tournament to Morenci. He stated the following regarding the regional:
"When the NWLA Tournament Presented by Visit Lenawee choose Morenci as the host of the tournament for 2017 and beyond, the whole community was excited to be able to showcase Morenci on the big stage. We have done just that. This tournament is significant for the community. We are once again excited for competitive fast-pitch wiffleball throughout the weekend. Some of the nation's best wiffleball players will be on hand throwing wiffleballs at 70 to 80 miles per hour."
The tournament will feature an All Star Presented by Lighting Quick Gas Stations and a Home Run Derby on Friday, July 13, 2018. Pool play begins early on Saturday morning, while the double elimination tournament begins later that afternoon.  The past tournament champions – Wiffle in Southeast Michigan (WSEM) out of Detroit, Michigan – will be defending their championship. Other teams featured, include:
OCWA (Farmington, NY)                                                      AWAA (Albany, NY)                                                GBL (Highland, IN)
SWBL (St. Louis, MO)                                           WILL (Canonsburg, PA)                                      HRL (Minneapolis, MN)
WSEM (Detroit, MI)                                              BWBL (Wilkes-Barre, PA)                                  MNWA (Minneapolis, MN)
ISW (Indianapolis, IN)                                        RPWL (Ridley Park, PA)                                      BWACS (Chicago, IL)
KWL (Kalamazoo, MI)                                         BCW (Milwaukee, WI)                                        GAWL (Auburn, MA)
HWL (Huntington, WV)
For more information on the NWLA Tournament Presented by Visit Lenawee, go to www.NWLATournament.com.
Tune into our local and state newscasts, anytime day or night, for this story and more.