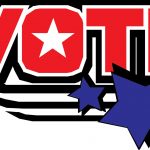 Lenawee County residents have until the end of the business day today to register to vote in the primary election. Those who have not registered may do so by visiting their city, village or township clerk's office or at the Michigan Secretary of State Branch office. The primary election is to nominate candidates for:       
Michigan Governor;    U.S. Senator and U.S. Representative in Congress; for  State Senator and State Representative; County Road Commission; County Commissioners;  Probate Court Judge; City and County Precinct Delegates; and any Township Office vacancies. There will also be a number of county and township proposals on the ballot. More information can be found at the Lenawee County website, www.lenawee.mi.us.
Information and applications regarding absentee ballots are available by contacting your local clerk.  You can also visit the Secretary of State's website at www.michigan.gov/sos for eligibility requirements and absentee applications. The primary election will be on Tuesday, August 7th.
Tune into our local and state newscasts, anytime day or night, for this story and more.