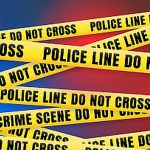 Mom's House, a childcare center in Toledo that helps low-income, single moms graduate from college, was the target of a burglary overnight Sunday. Staff members discovered the damage and thefts Monday) morning at the Franklin Avenue facility.
WTOL reports that major damage was done to an entryway of the building and more than a month's supply of food was stolen from the pantry. Commercial kitchen appliances including cookers and a microwaves were taken along with various electronics and computers.
Damages to the building alone are estimated to be more than $4,000. The value of the other stolen items is still being calculated. An investigation is in progress. The organization's leadership and board have taken steps to maintain normal operations.
Mom's House is actively seeking donations to replace the lost equipment and repair the facility. Anyone who is interested in donating to Mom's House or would like to provide in-kind support, is asked to visit them on Facebook, visit their website or stop by the organization on Franklin Ave.
Media in this article courtesy of WTOL. Tune into our local and state newscasts, anytime day or night, for this story and more.