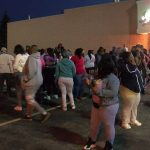 A gunman ambushed Sadari Knighten, killing the 27-year-old, moments after she delivered a pizza to a home in central Toledo. Family and friends gathered at Happy's Pizza on Dorr Street Monday night to remember her.
The crowd surrounded Knighten's car which was still in the parking lot where she left it before working her final shift.
16-year-old Marcello Jackson awaits a murder charge and is being held at the Juvenile Justice Center. The teen has also been charged with aggravated robbery, having stolen $70 from Sadari after shooting her in the chest and killing her.
Deputy Chief of the Juvenile Division Lori Olender said it appeared to be a random act and they are filing to try the youth as an adult.
Those mourning the loss of Knighten will always remember her big, bright personality.
This wasn't the only event planned for Knighten. Happy's Pizza will be holding a barbeque fundraiser at their Dorr Street location to help support the Knighten family.
Media in this article courtesy of WTOL. Tune into our local and state newscasts, anytime day or night, for this story and more.