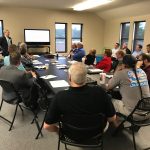 Over $20,000 will be used for a parking study for downtown Adrian. The Adrian Downtown Development Authority approved to move forward with the study at their meeting Wednesday morning. With a recent change in the city's budget, the board has more money to spend, and this will be their first large expense. There was only one "no" vote, and that was Todd Harder.
As with any action taken by a decision-making board, there are pros and cons…and there are certainly both with this decision. Critics say that the city has had several studies done, and not to many of them have had action taken based on the results. They also questioned the need for additional parking.
Those in favor of the study cited that there is a problem with parking downtown and that this study will offer several solutions that the DDA can evaluate and act upon.
Tune into our local and state newscasts, anytime day or night, for this story and more.