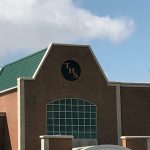 Tecumseh Public Schools has named Rebecca Schwan Director of Communications. She will lead the district's communications department beginning today.
Schwan has more than 20 years of experience in the field of communications and marketing, including broadcast news, education and agency environments. She previously served in a similar capacity with the Madison School District and The University of Toledo. Most recently, Schwan was the Public Relations Account Executive for Hart Associates in Toledo, Ohio where she specialized in community relations, communication strategy and crisis communications.
She holds a Bachelor of Arts in Communication from Bowling Green State University and is a member of the Public Relations Society of America.
"We made the decision to expand our communications team in response to the community's request for more information," said Superintendent Kelly M. Coffin, EdD. "Rebecca's skills and expertise will be an asset as we continue to improve the way we share district news and information with stakeholders."
Tune into our local and state newscasts, anytime day or night, for this story and more.
#wlenradio #wlennews #lenaweenews