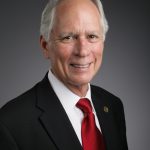 Siena Heights University's Senior Vice President of Business and Finance Dr. Lee Johnson was recently elected to the Board of Trustees of the Higher Learning Commission. Dr. Johnson's term begins Sept. 1, 2018, and ends Aug. 31, 2022.
Recently, Dr. Johnson was also honored by HLC with receiving the Outstanding Service Award for 2018 for extraordinary work on behalf of the Commission and for excellence in assisting HLC in the development and analyses of financial metrics and assessment techniques, as well serving as a mentor for new team chairs and peer reviewers. Commission representatives said Dr. Johnson has been their "go to" reviewer with a high level of expertise and insight regarding institutional governance and finances and has often stood ready to assist other peer review teams and HLC staff when complex situations arise at an institution.
He has served on or chaired over two dozen Institutional Actions Council meetings or hearings, in addition to serving as a member or chair of over 40 institutional visits, including comprehensive, focused, substantive change, advisory and sanction-related visits. In 2007, Dr. Johnson also helped HLC create the financial review panel, which is responsible for reviewing institutions under financial distress. According to the HLC, "with his contemporary insights and understanding of best practices and good judgments, it is no surprise that he is often called upon for advice and consultation."
HLC is one of six regional institutional accreditors in the United States and accredits degree-granting post-secondary educational institutions in the North Central region, which covers 19 states and 1,343 institutions. The Commission maintains relationships with the federal government, the states, and other organizations dependent on the quality of higher learning received in accredited colleges and universities.
Dr. Johnson received his Ph.D. in Higher Education Administration with a minor in Law from the University of Toledo.
Tune into our local and state newscasts, anytime day or night, for this story and more.
#wlenradio #wlennews #lenaweenews