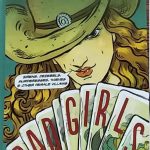 A parent at the Tecumseh Public Schools Board of Education meeting on Monday, April 9th was outraged with a book that her second grade daughter brought home from school. The book, titled "Bad Girls," was checked out at a Tecumseh Public Schools Library and the subject matter as well as pictures were not suitable for that age group, but for more of an adult reader. The author and publisher deemed the book acceptable for middle school students. The book was written by Jane Yolen and Heidi E.Y. Stemple.
The Superintendent of Tecumseh Public Schools in Tecumseh, Michigan, Dr. Kelly Coffin spoke to WLEN News at the conclusion of the board meeting and said that she and the school district do not condone the contents of the book. She also said that the board will be in contact with the family.
Stacy Bailey, Director of Learning at Tecumseh Public Schools has confirmed with WLEN News that the book was checked out from a TPS Library. At the time of the meeting, the board did not comment on the issue. The TPS administration determines the selection of the books in each library.
According to Bailey, the building principal of the second grader followed up with the librarian at the school and will remove the book. Bailey also said that TPS will review all books to ensure that they are appropriate for each schools library.
The family told the TPS Board of Education that they were pulling their second grader from the district, and will attend a different area school.
Photo of the book cover submitted to WLEN News by Sonya Garcia. Tune into our local and state newscasts, anytime day or night, for this story and more.
#wlenradio #wlennews #lenaweenews