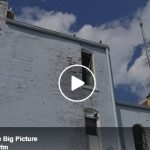 The Lenawee County Land Bank unanimously voted to demolish the Jean Christopher buildings at 125 and 127 West Maumee Street at their meeting on Tuesday, putting and end to their lengthy saga. WLEN News asked Lenawee County Administrator Marty Marshall if he could have envisioned any scenario in which the buildings could have been saved. Tune into our newscasts to hear his response. Marshall went on to say that due to public safety concerns, demolition can no longer be delayed. Marshall expects demolition work to start sometime in the last week of March. Here's previous coverage of the two controversial buildings:
Jean Christopher: The Big Picture

Jean Christopher: The Big PictureAn in depth look at the Jean Christopher building in downtown Adrian, MI. Tune in to our newscasts for continued coverage of the buildings and status updates.

Posted by WLEN 103.9fm on Friday, June 16, 2017
Media in this story gathered by WLEN's Gabriel Schray. Tune into our local and state newscasts, anytime day or night, for this story and much more.
#wlenradio #wlennews #lenaweenews