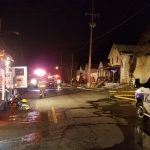 A fire in the city of Adrian last night burned a house at the corner of Maumee and Addison Streets. Fire crews were first dispatched to the fire shortly after 8pm. Several videos of the fire being handled by first responders, as well as Adrian Fire Chief Tim Bartenslager's interview are available below:
Adrian's fire chief spoke to WLEN News and provided further details:
Media in this story gathered by WLEN's Gabriel Schray. Tune into our local and state newscasts, anytime day or night, for this story and much more.
#wlenradio #wlennews #lenaweenews