by, WLEN News Staff
Published 2-5-18
Updated 2-5-18
WLEN News sat down with Chris Miller, DDA and Economic Development Coordinator for the city of Adrian, Michgian, and talked about an interesting investment opportunity in the city.  The Adrian Area Investment Accelerator (AAIA) met at the end of January at the Adrian Armory Event Center and heard pitches from four different groups, all looking for investors and donations. The AAIA is a non profit group created about a year and a half ago for people and business who would like to invest in local projects. They hold meetings quarterly and are open to anyone interested in investing in the local economy and supporting their community.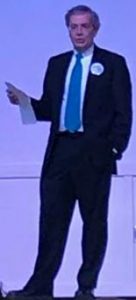 Two types of investments were on the table at the gathering of business professionals, young entrepreneurs, city officials and community members. The first presented were donation opportunities. This style of donation are run through a process called "Public Spaces, Community Places." A product of the Michigan Economic Development Corporation, this process matches, dollar for dollar, donations made to groups that are eligible for it.
Their website states that: "Public Spaces Community Places is a collaborative effort of the Michigan Economic Development Corporation (MEDC), the Michigan Municipal League, and Patronicity where local residents can use crowdfunding to be part of the development of strategic projects in their communities and be backed with a matching grant from MEDC."
The two groups seeking this donation-style crowdfunding were the Kiwanis Trail and the Adrian Armory Event Center. The trail is seeking funds to continue their bike path all the way to downtown Tecumseh. The goal is to connect the historic downtowns that are only separated by roughly 10 miles. Miller told WLEN News that two separate projects are projected to take place from where the trail currently ends, in Raisin Township, and the second project starting in downtown Tecumseh. With funds from the Department of National Resources and this crowdfunding event, the two trails will connect Adrian and Tecumseh. The second group seeking donation-style donations was the Adrian Armory Event Center. They were looking for money to build a commercial kitchen in the basement at their location. When their building was an active armory, there was a commercial kitchen there, but improvements are now needed. The goal is to turn the space into a place for entrepreneurs to cook and perfect recipes for their start-up or business.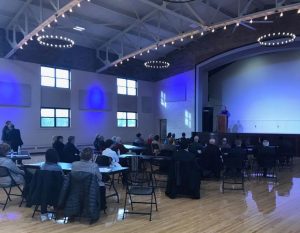 The second type of investment offered was investment crowdfunding. Through MILE (Michigan Investments Locally Extension) individuals and businesses may invest in start-ups or existing businesses with anticipation of getting their money back, with a little extra of course. MILE makes the process easier to invest because they keep all the necessary paperwork at the state level. Miller told WLEN News that Tecumseh Brewing Co. was actually the first business in the state of Michigan to use MILE, and that they raised over $175,000 for their business. The first of two businesses seeking investments was Buzz Cafe & Marketplace. They would use the funds to build a location in downtown Adrian for cafe style restaurant, a candy making operation and a grab-n-go groceries. The second of these businesses, Acropolis Games, will use funds raised to build out their downtown location that the company bought recently. Miller concluded the interview by telling WLEN News that all of the groups are not yet taking donations or investments yet, but plan to in the coming weeks/months.
The images in this news story are courtesy of WLEN News. Tune into our newscasts day and night for this and many other local and state news stories.
#wlenradio #wlennews #lenaweenews