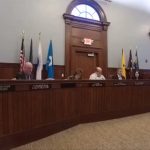 By, WLEN News Staff
Published 1-24-18
Updated 1-24-18
The Adrian City Commission held interviews for the open seat on the commission tonight. Eight applicants left their impressions on the commission, and out of that group, were narrowed down to four.
City of Adrian Commission Special Meeting

Posted by WLEN 103.9fm on Wednesday, January 24, 2018
The entire interview process lasted roughly three hours. The leading vote-getters (in no particular order) were Tim Jakubowski, David Munson, Casey Noce, and Kirk Valentine. Each member of the commission had three votes, listing their top three, with each position given a point value.
Part 2 of the City Commission interviews

Posted by WLEN 103.9fm on Wednesday, January 24, 2018
The commission will have an extended interview session with the candidates at their next meeting on Monday evening. A picture of the vote totals from tonight's  meeting are shown below:

(Points given by Commissioners)
The seat was opened when former commissioner Devin Stevens resigned after being charged with possession of child sexually abusive material. He was arraigned on the morning of December 13th, 2017.
Media in this news story is courtesy of WLEN News Staff. Tune into our newscasts day and night for this and many other local and state news stories.
#wlenradio #wlennews #lenaweenews