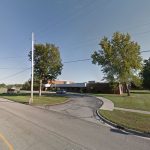 by, WLEN News Staff
Updated 1/17/18
A water main break has occurred in the City of Morenci. Officials have advised WLEN News that since mid-morning yesterday, the Morenci Department of Public Works has been preparing a site at the corner of East Locust Street and North Summit Street as a main water line break was observed.
The preparation of the site has been completed and the DPW has begun work to fix the line. It is likely that water pressure in Morenci will be low or none during the duration of the repair. The water is still safe to drink and use. The repair is expected to last into the later part of this afternoon.
UPDATE: Morenci Area Schools closed at 1:15 because of the water main break. Students were sent home early due to the water main break. The early closure covered Morenci early Head Start as well.
Tune into our newscasts for this and more local and state news stories anytime day or night. The photo in this post is a Google Maps capture.