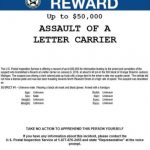 by, WLEN News Staff
Published on 1-11-18
The U.S. Postal Inspection Service is offering a reward of up to $50,000 for information leading to the arrest and conviction of a man who assaulted a postal carrier in Jackson on Monday evening.
At about 6:40pm Monday a Jackson letter carrier was in the 500 block of Orange Street when he was threatened by a masked man armed with a handgun.
The letter carrier was not harmed in the incident and no mail was taken. The inspection service believes it was the suspect's intent to rob the carrier.
The man was last seen driving a dark colored pickup with no license plate heading toward N. Pleasant Street at a high rate of speed. Additionally, the truck has a large dent in the driver's side rear panel. The Jackson Police Department is assisting in the investigation.
Anyone with information is asked to call the U.S. Postal Inspection Service at 1-877-876-2455 and say "representative" at the start of the voice prompt.