by, WLEN News Staff
Updated 1/7/2018
Several hundred animals have been seized from the property of a woman on Shepard Road. The property in Onsted was originally visited on December 19th. Authorities continued to gather information and expedited their actions because of sub-zero temperatures.
On December 19th, 2017 the Lenawee County Sheriff's Office received a complaint alleging that a woman living at 8843 Shepherd Road in Lenawee County was selling dogs that were being advertised as puppies and falsifying documentation. Additionally, the complainant believed the conditions at the Shepherd Road residence were inhumane based upon the poor condition of the dog that she had purchased from the 53 year old woman.
Investigators from the Sheriff's Office immediately opened an investigation and over the course of the next two weeks made multiple contacts with the owner, Sharon Kay Evans. On January 3rd, a search warrant was executed at the residence by the Lenawee County Sheriff's Office who was assisted by the Lenawee Humane Society, the Jackson County Humane Society, Jackson Cascades Kennel, Branch County Humane Society, Monroe County Humane Society, the Michigan Department of Agriculture, the Lenawee County Health Department and local veterinary offices.
Investigators with the help of these agencies, removed over 200 dogs, 32 horses, 5 cats and 2 peacocks due to the extremely poor conditions at the residence- including no shelter or water, and animal feces was observed by investigators. The extremely cold temperatures made the situation life threatening. All animals were taken to safe locations and are being treated.
On January 4th, 2018 a warrant was issued for Evans charging her with Animal Abandoning/Cruelty to ten (10) of more animals, a four (4) year felony. She turned herself in to investigators later and was arraigned on the charges. Evans was released on a personal recognizance bond is ordered not to possess animals.
According to Sheriff's records Evans was running a kennel and did have a valid kennel license allowing her to possess up to 75 dogs. A kennel inspection was conducted by the Animal Control Officer on June 2nd, 2017. Other allegations had been made regarding Evans lack of care for her animals, however, nothing could be substantiated and Evans did not cooperate. Law Enforcement
We'll continue to follow this story and provide further details as they come to us.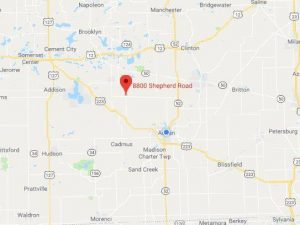 (Photo Credit: Google Maps Screenshot)