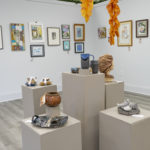 Adrian, MI – More than 30 Adrian Center for the Arts members and resident artists will be offering items for sale at the Center's annual Holiday Market.
From ceramics to glass, wearables to paintings, there are all shapes and sizes of art at all price points.
A Grand Opening will be this Saturday, from 9 a.m. to 6 p.m. in the ACA Gallery.
The market will continue weekdays, noon until 6 p.m. and Saturdays and Sundays 1 to 4 p.m. through December 23rd. Interested shoppers can also make an appointment by contacting the Adrian Center for the Arts.
Tune into our local and state newscasts, anytime day or night, for this story and more.
#wlenradio #wlennews #lenaweenews