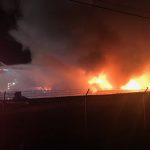 Lenawee County residents may have noticed a weird smell… and have seen the smoke… as a result of the scrap metal pile fire at Metal X in Delta, Ohio.
The Lenawee County Alerts system sent out a message early Tuesday afternoon stating that the fumes are not toxic.
Here is the text message sent out by the alert system:
Fire Departments from southern and central Lenawee County have been on scene fighting the fire since Monday evening.
Tune into our local and state newscasts, anytime day or night, for this story and more.
#wlenradio #wlennews #lenaweenews