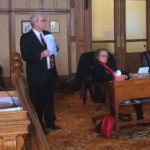 Lenawee County Administrator Marty Marshall delivered his State of the County presentation to the Board of Commissioners last week.
Administrator Marshall gave a recap to WLEN News…
The full video of the presentation is available on our Facebook Page by clicking here.
Tune into our local and state newscasts, anytime day or night, for this story and more.