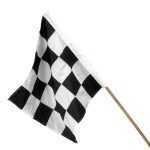 In-Campground Entertainment:
–          Dueling pianos – Watch as two dynamic piano players entertain the crowd in the MISCAMPING.com Infield Campground.
–          Medium – Make connections to loved ones in spirit delivering messages and guidance full of laughter, love, insight and healing during a special messages from the spirit session.
–          Church service – Every campground will have a non-denominational service on Sunday morning.
–          Pedal Bar – Grab your drink and friends to hop on the pedal bar going through the infield.
–          Movie – Grab your popcorn and enjoy the movie on the big screen. Campers can watch Ferris Bueller's Day Off on Thursday and Despicable Me 3 on Friday.
–          Fitness Program – The track is offering fitness classes to those who don't want to miss a workout.
–          Kids Activities – All the kids can get their face painted or listen to music by a DJ.
–          Tournaments – Fans can reign supreme in bingo or cornhole tournaments.
–          Late Night Party – Be sprayed by paint and foam while listening to the DJ until 2 a.m. in the M-50 Campground.
–          Concerts – There will be musical performances all weekend long throughout the campgrounds.
Fan Plaza Entertainment:
–          Bands – Fans can sit back and listen to music of a different band each day. Blue Spectrum plays on Friday, The Grant Reiff takes to the stage on Saturday and The Return entertains the crowd on Sunday.
–          Great Lakes Timber Show – The Lumberjack show features chainsaw carving, axe throwing, wood chopping, one and two-man crosscut sawing, modified chainsawing, log rolling and loads of clean family humor.
–          ZOMONGO Adrenaline Zone – Area will feature food trucks and vendors, X-Gamer practice times and celebrity autograph signings.
–          Michigan Pedal Pullers – Kids can take part in their tractor pulls competition.
–          Strolling Street Performers – Variety of acts including stilt walkers, contact jugglers, object manipulation, fire acts, cube spinning and fire eating.
–          Wood Carver – Checkout what can be created from your basic wood log.
–          Monster Energy bike Show
–          Go karts – Drive like the pros in a special go-kart course.
2018 Michigan International Speedway Schedule
Friday, June 8                  ARCA Racing Series presented by Menards ZOMONGO 200 and Monster Energy NASCAR Cup Series Qualifying
Saturday, June 9             NASCAR XFINITY Series LTi Printing 250
Sunday, June 10             Monster Energy NASCAR Cup Series FireKeepers Casino 400
The 50 Years of Racing Exhibit presented by Consumers Energy 400 features Michigan International Speedway memorabilia and a special display of cars that once raced on the two-mile oval. The exhibit is located at the north end of the fan plaza. Fans have the opportunity to explore the history of the track and share their memories with family and friends.
Tune into our local and state newscasts, anytime day or night, for this story and more.