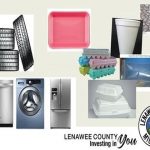 There will be two locations for a household environmental waste collection event in Lenawee County. Both events will take place Saturday, May 19th from 8am-12pm.
At the Lenawee County Fairgrounds:
Clean tire recycling will take place for car, and pick-up tires only. A limit of 10 tires per vehicle, with the 1st 5 free. Up to 5 additional tires @ $2 each. ONLY FIVE FREE TIRES PER VEHICLE. Please call (517) 264-4511 with the number of tires you are bringing by 4:30pm Wednesday, May 16th! If there is no answer, leave a message.
Cobalt Holdings reserves the right to reject any tire that may damage its recycling/processing equipment.
Enter on Hanke Lane (off Siena Heights Drive).
Free recycling! Styrofoam peanuts, bubble wrap and air/pillow packs will be collected. Other accepted items include: egg cartons, meat trays, cups, coolers, take-out containers, etc.
If you have any questions, call Diana at (517) 264-4511 or (517) 605-8717.
At the Adrian Mall-North Lot:
Items accepted include ranges, refrigerators, washers, dryers, dehumidifiers, freezers, air conditioners, etc. Please mark non-working appliances.
Enter from S. Winter Street and look for signs.
Freon removal on site by Campbell HVAC for donated non-working, freon-based appliances. Habitat of Lenawee County will recycle non-working appliances.
Household items only! Commercial (business) appliances will not be accepted.
If you have any questions, call Habitat Restore at (517) 266-0746.
Tune into our local and state newscasts, anytime day or night, for this story and more.
#wlenradio #wlennews #lenaweenews