Secretary of State Ruth Johnson thanked the Michigan House and Senate election committees for their support of online voter registration application, an initiative she has long championed.
"Thirty-eight states offer online voter registration tools," Johnson said. "Michigan is uniquely positioned to do the same because the Secretary of State's Office oversees both driver licensing and elections, which provides a secure database that makes it easy to authenticate a voter's address, identification and signature against their driver or state ID information."
Throughout Johnson's tenure as Secretary of State, she has sought ways to use technology to improve and streamline Secretary of State services. The online services at ExpressSOS.com allows customers to complete just about any transaction online. Launched in 2011, the service offers such conveniences as change of address, duplicate vehicle titles, and vehicle registration and driver's license renewals over the Internet. In Fiscal Year 2017, ExpressSOS.com processed more than 2.2 million transactions online.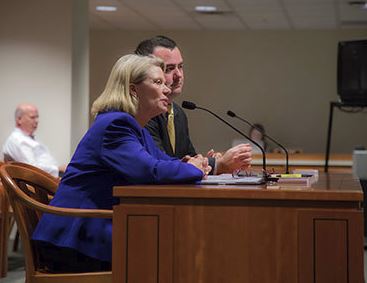 As the state's chief election officer, Johnson has put in place initiatives to clean up Michigan's voter rolls, toughen campaign finance laws and ensure integrity in the elections process. Johnson endorses online voter registration because it adds greater efficiency while protecting the veracity and security of the elections process. Under the proposed legislation:
Original voter registration applications would be submitted online using ExpressSOS.com
The online voter registration system would automatically check that a potential voter is of the correct age and otherwise eligible to vote by cross-referencing the voter registration application information through the state's driver licensing and state ID files
Deceased residents would be flagged via the Social Security Administration, which sends updated files every two weeks to the Secretary of State
Signatures would be captured through the Secretary of State's driver licensing and state ID database
"ExpressSOS.com has proven itself to be a secure and meticulous workhorse with the ability to easily handle thousands of transactions daily," Johnson said. "Advancements in technology are a critical part of election administration, but we must take the necessary steps to ensure that our systems are secure, safe and accurate. This proposed online voter registration application system does just that."
Media in this post courtesy of Michigan Secretary of State Ruth Johnson and Wikipedia. Tune into our local and state newscasts, anytime day or night, for this story and more.
#wlenradio #wlennews #lenaweenews