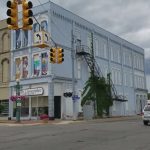 by, WLEN News Staff
Published 1-24-18
Updated 1-24-18
City of Adrian officials have confirmed that a letter of intent has been submitted- signifying potential intent to purchase the Jean Christopher buildings. The demolition deadline is just one month away and the Landbank of Lenawee has agreed to negotiate the purchase of 125 and 127 West Maumee.
The proposal was submitted to the Landbank from RHKI, LLC. Officials tell WLEN News that the company is represented by Kevin Iott, founder of Meridian Mechatronics in Deerfield. Planewave, a partner of Meridian Mechatronics last month announced that the two are interested in purchasing the former Adrian Training School campus to consolidate their operations from Deerfield and California.
Negations on the letter of intent, which has been signed by the Landbank, are expected to take place over the next 21 days. The Landbank had previously set February 23rd as the start of the demolition process, if no offer was accepted.
The two structures at 125 and 127 West Maumee in downtown Adrian made headlines after controversy arose over the topic of demolishing them. WLEN News covered this as well and footage of the building can be seen on our Facebook page: WLEN 103.9fm
:
Jean Christopher: The Big Picture

Jean Christopher: The Big PictureAn in depth look at the Jean Christopher building in downtown Adrian, MI. Tune in to our newscasts for continued coverage of the buildings and status updates.

Posted by WLEN 103.9fm on Friday, June 16, 2017
Footage in this news story is courtesy of WLEN News Staff. Tune into our newscasts day and night for this and many other local and state news stories.
#wlenradio #wlennews #lenaweenews