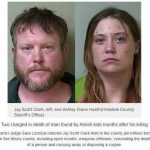 by, WLEN News Staff
Published 1/15/18
A local woman who pleaded guilty to second-degree murder for her role in the death of her sometimes boyfriend, 37-year-old Jeremy Barron, is to be sentenced this week.
Hillsdale County Circuit Judge Michael Smith is to sentence Hoath on Thursday, Jan. 18. Second-degree murder is punishable by up to life in prison. Emotional and agitated, she attempted last week to invoke her right not to incriminate herself, but Smith said Fifth Amendment protections did not apply because she admitted guilt.
41-year-old Jay Scott Clark is charged with open murder for allegedly killing the 37-year-old Barron, as he sat February 8th of 2017 in the back of Clark's Chevrolet Tahoe. He is also accused of using a firearm in the commission of a felony, concealing a death and carrying away a corpse.
Clark admitted to shooting Barron and told county sheriff's deputies he melted with a torch the .45-caliber revolver as well as burned the backseat of the Tahoe, which he later traded to an unknowing Ohio man for a Ford Mustang.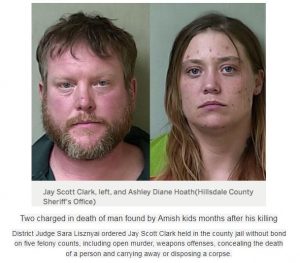 This alleged activity – and the subsequent reported cover-up – went unknown until children found Barron's body April 2nd in a wooded area off Dimmers Road in rural Camden Township, about nine miles south of what Ashley Hoath named as the shooting site.

Tune into our newscasts for this and more local and state news stories. The image attached to this article is courtesy of MLive.
#1039WLEN #WLENNews #WLENRadio