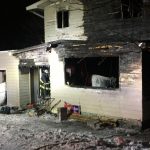 by, WLEN News Staff,
Published on 1-10-18
Authorities have released the names of two young people found dead following a fire at a a home in Michigan's Upper Peninsula. Gabriel Schray has the full details:
For local and state news updates anytime, join our newscasts on air. Image attached to article courtesy of WLUC-TV.