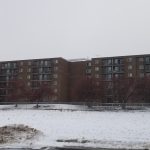 by, Gabriel Schray
Published 1/9/18
City of Adrian officials have confirmed to WLEN News one individual was hospitalized following a blaze in Maple Village High Rise within the City of Adrian early Tuesday morning.
The complex at 1221 South Main Street has no apparent physical damage from the exterior. Members of the Adrian Fire Department responded to a fire alarm at the address just after 4am this morning.
The crew of five arrived and upon investigation, found a kitchen fire in apartment 400. The male occupant was overcome by smoke, fire department personnel rescued the occupant and carried him to a waiting ambulance. He was transported to Promedica-Bixby hospital for evaluation.
The fire was contained to the kitchen and was extinguished. The occupants of the fire floor were evacuated to a safe area. The cause of the fire remains under investigation.
Adrian Fire Department was assisted by Adrian Police Department, Adrian Township, Raisin Township, Palmyra and Madison Township Fire Departments, Lenawee Community Ambulance and the American Red Cross. Responding firefighters were able to safely battle the blaze.